20 January 2021
Spring 2021 Trend Report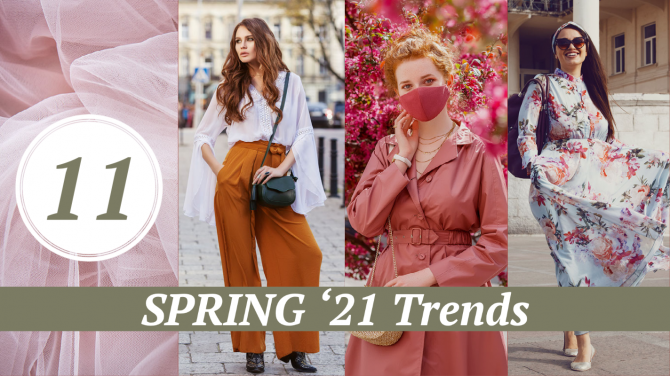 Click on image to download high resolution version
By Jordan Hart
A dreary January is about to give way to a bright spring with a lot to look forward to this season. Flowers will be blooming, events will be returning (including OFFPRICE in Orlando this February!) and new trends will be emerging. Here is what the experts at Vogue, Harper's Bizarre, and Marie Claire are forecasting for the upcoming season:
Florals – Would it really be spring if florals weren't trending? It is an oldie but a goodie in terms of trends and according to Harper's Bizarre and Marie Claire, it's coming back for another season.

Cut outs – Gone are the days of cold shoulder tops but cutouts are being revamped and making a strong comeback according to Vogue and Marie Claire. Particularly around the waist and down the arms, its time to show a little skin this spring.

Bralettes – If cut outs just aren't enough skin, this next trend is for you. Both Vogue and Marie Claire are anticipating wearing bralettes as tops will be a big trend this season.

Sheer materials – Continuing with the trend of showing some skin, this option is for those who lean a bit more conservative in their wardrobe. Pairing a sheer blouse with a camisole, or a bralette for the braver dressers, will be a trendy option that offers a bit more coverage this spring.

Wide-leg pants – If post-quarantine weight has looser fitting pants calling your name, you are in luck. Wide-leg pants are forecasted to be trending by all three fashion giants. Marie Claire recommends pairing the oversized pants with a bralette to add femininity and shape to the look. Harper's Bizarre specified that oversized jeans and wide-leg khakis will be especially stylish.

Bold silhouettes – Spring is all about shape this season. Harper's Bizarre recommends achieving this look with padded shoulder tops and belts to cinch in the waist. Vogue recommends either a corset to really emphasize the figure or tops with capes to add drama to the silhouette.

Oversize button downs – This trend could be another way to achieve the dramatic silhouette look. Harper's Bizarre recommends sizing up a few sizes for a more relaxed yet professional look; add a belt to cinch in the waist to further emphasize the figure.

Netted clothing – Fishnet stockings are getting a revamp this season; meet their new, cooler cousin: net overlay. Tops, trousers, and dressed overlayed with netted material are going to be a new twist on an old classic, according to Vogue and Harper's Bizarre.

Sequins – If you are ready to party when quarantine ends, or just want to throw a dance party for one in your kitchen, sequins are the trend for you. According to Vogue, adding a bit of glam to your wardrobe, even if your pet will be the only one to see it, will be a nice addition this season.

Bold colored coats/trench coats – If you are feeling especially bold this spring, commit to some colorful outerwear. According to Harper's Bizarre, coats with bold colors or bold patterns will be in trend this spring. If you are feeling more conservative, Harper's Bizarre also affirms you can't go wrong with a classic trench coat.

Feathers – As quarantine restrictions begin to lift, why not spread your wings in a feathered skirt? Marie Claire forecasts that feathers will be a fun new textural element to tops, dresses, and particularly skirts.
What trends are you going to be buying for/wearing this spring? Let us know over on LinkedIn!