27 September 2022
We're hiring a Marketing Manager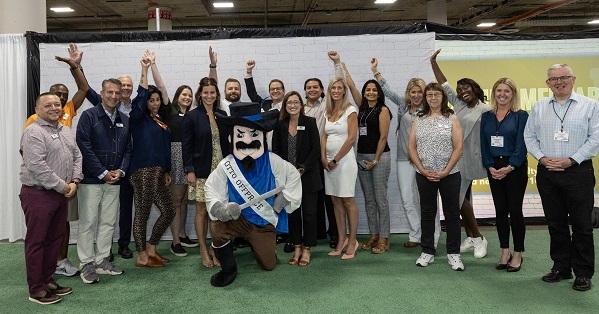 Click on image to download high resolution version
The Marketing Manager role is for someone who loves all things in omni-channel marketing. From drip campaigns to video editing (on social platforms), your passion is for communicating messages clearly to diverse personalities, using every skill in your marketing toolbox.
You will work side-by-side with team mates to create dynamic campaigns and messaging for a legacy bi-annual fashion trade show. We have fun but work hard. We respect each opinion, celebrate our success, and jump in to support each other when needed. We love fashion and understand the business of it. We're not afraid to fail forward and our successes are award-winning.
Primarily responsible for supporting, developing, and implementing the Marketing Strategic Plan, candidate will have an excellent grasp on content creation (short and long form), to assist with website editing, email campaigns, press releases, as well as general production of marketing materials and collateral. (Fashion, retail, or sourcing experience a plus.)
Candidate prides themselves on being friendly, courteous, service-oriented, professional, outgoing, and customer-centric. We are known for our customer service and need a candidate that can take ownership of situations with kindness and hospitality.
If this sounds like somewhere you'd like to thrive, check out below.
Other responsibilities the incumbent is responsible for include:
Work with team to develop content calendar to push through multiple channels including website, social, media and on-site.
Create and deploy email comms, product promotions and mail merges to continue outreach and communication. Segment customer lists by persona, category, or geographically for weekly marketing communications. (Pardot experience a plus) Answer or delegate communications from potential customers who have been solicited through marketing efforts.
Reaching our customer through different platforms is revised regularly, so candidate should enjoy adopting and educating team on the marketing communication technologies stack when necessary. Candidate is comfortable working with IT department to ensure tech is aligned with higher-level organization compliances.
Work with team to develop strategy to increase SEO and social media engagement. Working closely with Social Media Management Company to steer content to best serve the show.
Maintains and updates accurate records within our buyer database; this includes adding new records accurately to OFFPRICE database. (Salesforce experience a plus) You'll support customer service duties and initiatives including but not limited to buyer registration, retailer confirmations, and ad hoc telecommunication campaigns.
Other responsibilities will also include supporting the OFFPRICE team onsite at OFFPRICE events including but not limited to customer relations and help desk support, media tours and interviews, assisting in operations activities and coordinating sales and marketing projects. Feeling comfortable on camera and presenting is a plus.
The incumbent will be required to travel 10-20 days out of the year to support OFFPRICE shows.
Required Skills & Experiences
Incumbent must have a bachelor's degree and/or at least 5+ years equivalent work experience. Areas of study in Marketing, Advertising, Communications, Journalism, English or PR are preferred.
Experience with CRM database operations.
Applicants should be detail-oriented and work effectively under pressure while meeting all applicable deadlines.
OTHER SKILLS AND ABILITIES:
Excellent organizational, leadership, interpersonal communication, and computer skills
Clear and conceptual thinking ability.
Excellent judgment and discretion; ability to handle multiple priorities simultaneously, meet deadlines, and handle work-related stress is required.
Must be able to work independently and productively with minimum supervision.
Recognize problems, identify possible causes and resolve routine problems.
Ability to establish and maintain professional atmosphere for employees, clients, and customers
Bi-lingual a plus plus!
Compensation Status & Work Schedule
Incumbent is an exempt employee in the state of Illinois. Tarsus' main office is in Rosemont, IL and offers a flexible work environment.
Please contact Laurel Hansen, Senior Marketing Manager at: lhansen@offpriceshow.com