02 March 2020
UNFILTERED EXPERIENCE seminar with social influencers among OFFPRICE announcements for February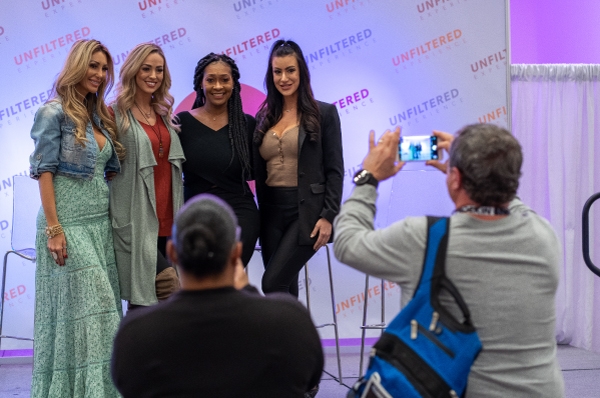 Click on image to download high resolution version
(Brookfield, Wisc, January 21, 2020): OFFPRICE unveils a series of updates for the February 2020 trade show, including: UNFILTERED EXPERIENCE, the beauty popup, will host a roundtable seminar session on Tuesday, February 4, 3-4:00 p.m., at the show. The session, titled, Indie Stores, Social Media and The Local Community, will feature social media influencers, including Jamie Villamor, Harmony Swank, and Char Modelle. Lisa Stylez, a correspondent and segment producer, will moderate.
"The session will cover how independent retailers can work with social media influencers to generate awareness and connect with their local community," says Daniela Ciocan, Founder of UNFILTERED EXPERIENCE. "Retailers will learn new ways to engage and find social media influencers that are a fit for their store's demographic. From in store events, to ongoing campaigns, local influencers can serve as community ambassadors."
UNFILTERED EXPERIENCE will host an After Dark Party on Monday, February 3, from 4-7:00 p.m., to kickoff the new partnership with OFFPRICE. RSVP for the cocktail reception here. UNFILTERED EXPERIENCE will then launch the beauty popup event on Tuesday, February 4, near OFFPRICE registration. Local Las Vegas artist, Jodi Pedri, will have feature illustrations on display on the show floor.
Boutique Day
Ashley Alderson, Founder of the Boutique Hub, will also host an on-site buyer tour on Tuesday, February 4. Boutique Hub members who are new to OFFPRICE will receive insider shopping tips while being shown around the wholesale floor, Cash & Carry, Boutique area, and more. Alderson will then offer a small reception in the OPLV Hub to follow. Tour begins at 1 pm, at the wholesale floor entrance.
Throughout the OFFPRICE Show, retailers are welcome to request personalized buyer tours from Audrey Taylor, Buyer Relations Manager, and other members of the OFFPRICE staff. Send an email to Taylor or call 262-754-6921 to reserve.
New Exhibitors
New OFFPRICE exhibitors can now be found in the online exhibitor list and free mobile app, in various categories and price points, including:
The Boutique section will once again be returning to OFFPRICE, by popular demand from retailers looking for elevated, affordable pricing. A sampling of new exhibitors in this feature include:
"With the countless opportunities available through UNFILTERED EXPERIENCE, our new exhibitors, Boutique section and other feature areas, we are very excited about the wide variety of offerings coming to the February 2020 OFFPRICE Show," says Tricia Barglof, CEM, Executive Director of OFFPRICE. "The collection truly reflects our identity during Las Vegas Fashion Week, as the intersection of quality and value products and pricing."
Social engagement
Buyers who take a photo, create a GIF, or print a polaroid through OFFPRICE's new photo booth next to the OPLV Hub, can take their shot at the new "claw machine." Attendees simply present their social media post or printed photo to play for a chance to win a $100 Uber gift card, Air Pods, and more.
All buyers are welcome to meet in the OPLV Hub for "Tacos and Tunes," for complimentary mini street tacos and cocktails, from 4:30 – 5:30 p.m. on Tuesday, February 4. Celebrate a successful day of buying on Wednesday, February 5, with "Gelato and Jams." A gourmet gelato bar with customizable toppings will be available in the OPLV Hub from 4:30 -5:30 p.m.
Registration for the OFFPRICE Show, February 3-6, 2020, in Las Vegas is open online. Registration for the company's upcoming market show in New York City, May 5-6, 2020, at Penn Plaza, will open in the coming weeks. For more details, please contact Mikaela Kornowski, Marketing Manager, at 262-754-6906 or by email.
Notes to editors:
About OFFPRICE
The OFFPRICE Show takes place biannually in Las Vegas in February and August during Fashion Week, and an annual market show in New York City. The show is aimed at small business owners to retailers for national chain stores.
The OFFPRICE Shows are produced by Tarsus Group plc, an international media group with interests in exhibitions, conferences, publishing and the Internet. With offices in London, Shanghai and Milwaukee (home of OFFPRICE), Tarsus serves niche markets with trade events and online media. For further information on Tarsus and OFFPRICE, go to www.tarsus.com or www.OffPriceShow.com. Follow @OffPriceShow on twitter for the latest news.