22 November 2022
The Ultimate Guide to Buying General Merch, Beauty Supplies, and Gifts at OFFPRICE Show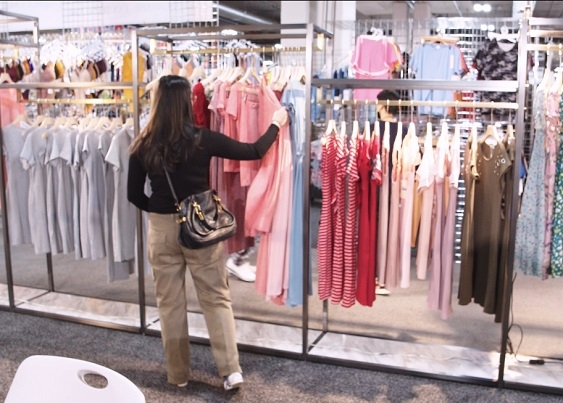 Click on image to download high resolution version
When you think of buying merchandise at a trade show, you probably imagine department store-type products. But OFFPRICE Show is much more than that. It's an all-encompassing experience that offers a variety of merchandising options for buyers from all types of stores and businesses. The event features everything from fashion and beauty, to general merchandise and gifts. If this sounds like the perfect opportunity for your business, then continue reading for more information about how you can buy at OFFPRICE Show and what it has to offer you as a buyer.
What is OFFPRICE Show?
OFFPRICE Show is a trade show that features a wode array of apparel, accessories, general merchandise, beauty products and gifts - all at deep discounts.. The event takes place biannually in Las Vegas in February and August during Las Vegas Fashion Week. It's a one-stop shop that makes it easy for you to find everything you need to restock your store under one roof. The show is open to all buyers, no matter how large or small the company is. Whether you're purchasing gifts for your own business, or run a retail location, you can attend the event and shop for what you need. If you run a gift shop or have a retail location that needs to stock up on seasonal items or everyday essentials, OFFPRICE Show is a great place to get what you need. Known for it's high margin opportunities, it is an integral part of sourcing at Las Vegas Fashion Week.
How to Buy at OFFPRICE Show
If you're one of the thousands of attendees that are at the trade show to buy inventory for your business, you can check out the vendor list online before you go. This way, you can pick out the vendors you want to visit and plan your day accordingly. Make appointments prior to the show to make sure you are strategic with your buying time. While you can absolutely walk around and shop the aisles, it's best to meet with vendors so you can get a head start on pricing, negotiate discounts, and make sure you find exactly what you're looking for.
Check out this blog
if you want to know how to be efficient at OFFPRICE.
Beauty Supplies at OFFPRICE Show
The beauty section at OFFPRICE Show offers everything from makeup palettes to hair care kits. You can find a variety of companies that sell their products at the show, which makes it a one-stop shop for all of your beauty supply needs. If you need products to sell in your retail location as a point of purchase enticement, or you want to gift them to employees or clients as a promotional tool, you can find beauty products at OFFPRICE Show that are discounted as much as 60% off. The beauty section is a popular area of the show, so make sure you get there early to avoid missing out on the best deals.
General Merchandise at OFFPRICE Show
If you're looking to restock your retail store, or you want to purchase general merchandise items to use as gifts, the general merchandise portion of the show is the place to go. These vendors sell everything you'd find in a department store, including apparel, toys, housewares, and more. These vendors buy their merchandise directly from the brand, so you know you're getting quality products at a discounted price. If you own a retail store, the general merchandise vendors at OFFPRICE Show are a great place to stock up on items that you can sell to your customers.
Gifts at OFFPRICE Show
The gifts section of OFFPRICE Show is another popular spot for attendees to shop. These vendors sell a wide variety of products, ranging from novelty items to gag gifts, to luxurious items like jewelry. Regardless of what you want to buy, you can find it in the gifts section of the show. You can find a variety of items that appeal to a wide range of tastes, so you can definitely find something for everyone.
When is OFFPRICE Show?
The next
OFFPRICE Show
takes place in Las Vegas from February, 11-14, 2023. There are multiple show dates each year, so you can choose the one that best fits your schedule. The marketplace is open four days, so you have plenty of time to shop for products and meet with vendors.
Things to Know Before You Go to OFFPRICE Show
Most importantly, make sure you stay focused. If you want to get the best deals, you need to be able to negotiate quickly, so be sure to stay focused on one vendor at a time so you can get the best deals possible. You can also expect there to be long lines, so make sure you plan accordingly. If you plan to meet with vendors, make sure you arrive early so you don't miss the appointments and can shop as many vendors as possible during your time at the show. Read
how to be comfortable at fashion trade shows
. The show also offers buyer tours and networking events throughout the show floor hours.
Contact us
to set up a time.
Final Words
OFFPRICE Show is a one-stop shop for all of your retail needs. You'll find beauty, general merchandise, gifts, footwear, accessories, and of course, women's, men's and children's apparel. You can expect to find a wide range of vendors at the show, with products at deeply discounted prices; ready to ship. Check it out. Registration is open soon. Register
here
Happy sourcing!