10 May 2022
Sustainability and the off-price channel PT. 1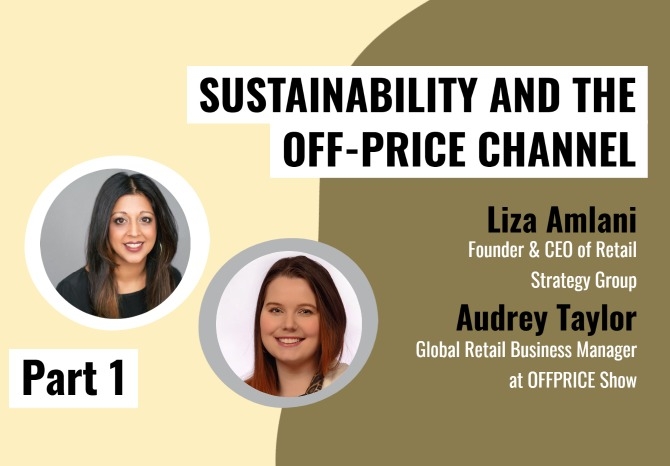 Click on image to download high resolution version
OFFPRICE dives deep into sustainability issues surrounding the fashion industry and offers a solution as a marketplace for excess inventory. This three-part series looks at sustainability from the simple perspectives that are starting to take root today in our modern fashion ecosystem. This conversation between OFFPRICE Global Retail Business Manager, Audrey Taylor and Retail Strategy Group CEO, Liza Amlani took place on Earth day 2022.
"the fact is off-price is not devaluing your brand, it's actually an outlet for your brand, if you don't have an outlet already."
Part one explores current retail trends, the misconceptions of off-price, the traditional ways of buying and sourcing product.
Audrey:
Thank you for talking to us about sustainability and how it relates in our off-price world and the world of retail in general. For those who don't know, can you tell us a little bit about your experience in the industry as a merchant and as a retailer.
Liza:
I have about 20 years in merchandising, buying, planning, and product creation, so I spent that in the industry working with designer brands like Ralph Lauren and Club Monaco and then department stores like Holt Renfrew a few other stores across Canada and North America. I started my own consulting firm in 2020, because we really felt like there weren't a lot of retailers in the consulting space who had done the work. I truly understand that customer journey all the way, from sourcing to product development and production. We felt there was a real need for merchants and creators that could help retailers and brands truly push that sustainability factor forward and rethink the way we go to market.
Audrey:
Well, I know we immediately bonded when we connected on LinkedIn over our passion for sustainable fashion and changing the narrative of how OFFPRICE fits into that model. The roots of OFFPRICE are in sustainability, moving excess inventory, and keeping it out of landfills. That's what we're here to talk about today, and i'm so excited to have this discussion with you and start changing the narrative.
Liza:
I think it's something that is critical right now, especially as we see a lift in sales at off-price retailers. I pulled up some stats, a few weeks ago we heard about Ross and their fourth quarter sales, they were five billion dollars, and their comp sales were up nine percent, so what that tells you is that the narrative around off-price is super positive from a consumer perspective. As we keep talking about this, we'll talk about how it's so different from the retailer's perspective and brand's perspective. TJX net sales were up 14 percent to 13.9 billion dollars in the fourth quarter, and that was just a couple years ago. I don't have the most current stats, I think those are coming out in the next few weeks, but even as we talk about Burlington's, their total sales increased 18 percent in the fourth quarter from two years ago, so sales were up six percent, this is all according to modern retail, and i'm sure we're going to see a lot more stats come up in the next week or so.
As we hear more about what's happening this year in physical retail, I definitely think that tells you consumers are gravitating towards the deals and discussing inflation, because that's what everybody's talking about right now. How that impacts the shopper journey and the consumer's perception of product, when they're actually trying to scale back and save, but we're still seeing retail sales go up, so it's almost like OFFPRICE could be a solution for the consumer journey.
Audrey:
I think there's a lot of misconceptions about off-price products, and a lot of times people have assumptions that they might all be out of date, or irregulars, or just lower quality that's been deemed undesirable by traditional retailers and consumers. So, in your perspective is this an accurate depiction of the type of products that are available in the off-price market?
Liza:
I mean from a consumer perspective I'd say absolutely not. I will tell you that the consumer perception has definitely shifted from an old-school flea market type of model, to "this is my destination where i'm going to find newness on a daily basis". I will tell you that a lot of my friends in that merchant space coming from TJX or Ross stores, they'll tell you that customers are shopping every day, and that is phenomenal outside of the grocery store. You're going into an apparel, footwear, accessories, home store almost on a daily basis, at a minimum weekly. From a consumer perspective I think that narrative has absolutely shifted where we're getting brands for less. From a retailer's perspective, i'd say that it's been a solution for many retailers going through covid, with not only factory closures and goods coming in outside of the season, but with the supply chain chaos and what's happening right now. From a transit perspective, i'd say that there is a lot of opportunity for retailers to shift their goods they can't sell in that season to off-price. It really does impact their bottom line from a gross margin perspective. If they can make partnerships with off-price retailers where their gross margin is not impacted as much as it would be if it's going to a liquidator, or aged goods sitting in the back of their distribution center gathering dust, i'd say it's a good solution
Audrey:
I think that's a great point . it's obvious to the us that excess is at every point in the supply chain and at every level of the industry, maybe you can shed some more light on that.
How does excess inventory play into the supply chain, not just at the end consumer level, but throughout the entire process?
Liza:
It really comes down to the traditional ways of buying and sourcing product, when merchants and planners are sourcing product, i'd say this has been happening for the last 100 years. When you're planning, starting with the line plan, which is basically your instructions for this season, you're already planning for excess, because when you're working with factories you are locked into minimums. So even though you might only need 200 units of a fashion t-shirt, you have to buy 500, because those are the minimum order quantities. Many times, you cannot stray from that, and there'll be a ridiculous up charge if you do. So better for the retailer or brand to buy that minimum quantity and then just plan, what are we going to do with that product throughout our season? For the most part they're planning for markdowns, hoping the product will liquidate at 30 to 50 percent off at the end of season, or even after season. I will tell you from my experience that we are sitting on years of aged goods, years, because we either don't want to send it to a liquidator because it will devalue the brand, or we don't know that off-price is an option. The current perception of off-price is almost like a liquidator, but the fact is off-price is not devaluing your brand, it's actually an outlet for your brand, if you don't have an outlet already.
Stay tuned for part 2 of the conversation next week, where Audrey and Liza discuss how off-price can be used to test new markets and be a solution for supply chain issues.
This three part series is part of a webinar recorded on Earth Day 2022. Watch the full interview here
----------------------------------------------------------------------------------------------------------------------------
Audrey Taylor is the Global Retail Business Manager at OFFPRICE, serving as a resource for retail buyers looking to make valuable connections with wholesale partners. Audrey joined the OFFPRICE team in 2019 bringing 8+ years of experience in the retail and wholesale apparel industry.
Liza Amlani is the CEO of Retail Strategy Group, a consulting practice which helps companies in the retail space dramatically improve profitability. She is a respected voice on topics such as responsible retail and sustainability, retail diversity and inclusion, the future of retail and the urgency of technology enablement in merchandising, assortment optimization and demand planning. She has 21 years of experience in the retail industry.