29 March 2021
Off-price grows in a staggered economy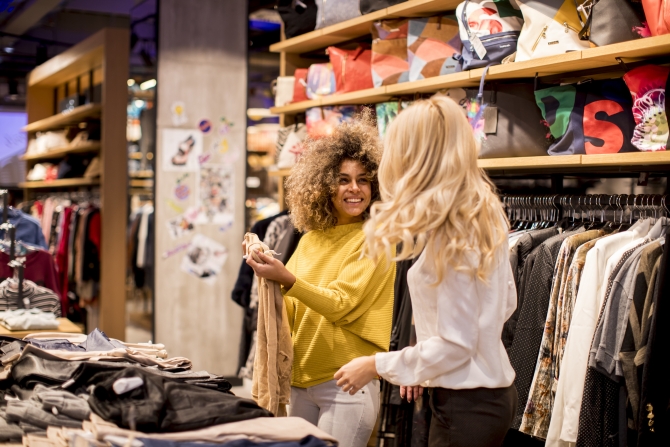 Click on image to download high resolution version
Off-price is slowly but surely
beginning
to outpace
traditional retail. As the world begins to recover from the Covid-19 pandemic, retail is struggling to overcome a difficult year for shoppers. Many consumers stopped or significantly lowered non-essential shopping and non-essential trips out of the house, both of which took a toll on retail.
Modern Retail
found that '
discount stores fared much better than other non-essential retailers during 2020's re
-
openings in terms of foot traffic
.'
That foot traffic is crucial, as off-price is
almost completely
dependent on brick and mortar; financial researcher
Riyado
Sofian
found that for off-
pricers
, '
the impact from online sales is negligible.'
With off-price retailers set to have
a strong
in-person
comeback in the
coming
year
, according to r
esearch analyst Lorraine Hutchinson
, retailers should strongly consider incorporating an off-price element to their buying strategy. Now is
a
good time
to enter the off-price arena
because
with so many traditional retailers facing bankruptcies and closures, off-price vendors have been able to
acquire
more inventory recently.
Sofian said:
'
Key opportunities lie in fashion brands, department stores and suppliers liquidating out-of-season merchandise to off-price retailers, at bargain-basement prices.
'
Furthermore
, as
Modern Retail
states: '
historically, there's been a rise in customers looking for better deals during economic downturns.'
The proof of how much traditional retailers are struggling is
evident
in the amount of
store closings.
Express said it would be closing
nearly 100
stores by the end of 2021 – and that was prior to the pandemic.
Macy's
was set to close
nearly 30
locations, again prior to the pandemic. The number of store closing
s
has
likely increase
d since those statements were released.
In the case of Macy's, the company is making an effort to increase profits by introducing their off-price
channel
called
Macy's
Backstage. According to Macy's, Backstage items are not
previous
sale or clearance items, but
rather uniquely
sourced affordable products. Some of the products
are '
closeouts or overruns, as well as items specifically made for Macy's Backstage.
' This type of product is called engineered off-price (read more about engineered off
-
price
>
HERE
.
Backstage is Macy's attempt to keep pace with off-prices such as TJ Maxx and Burlington, both of which have announced expansions despite the economic downturn.
Forbes
reported that TJX, 'the parent company to the country's biggest off-price brands, is moving
on all fronts to expand its store
base
.'
TJX plans '
to open 76 stores in the U.S. across its multiple banners in its fiscal 2022,' according to Forbes.
Meanwhile,
Forbes
reports that Burlington 'said
it would open about 100 new locations this year. Right
now,
it has about 750 locations but in announcing its 2021 plans it said it eventually expects to get to 2,000 stores
.' Similarly, Ross and DD's Discounts
anticipate around 60 new locations for fiscal 2021, broken down in 40 Ross stores and 20 DD's.
With off-price on the rise and more inventory being liquidated from traditional retailers every day, now is the time to consider how an off-price strategy can fit into your business model.
Visit us this August 7-10
th
at the Las Vegas Convention Center to find
ou
t
how OFFPRICE can help increase your margins and grow your business
in the modern era of retail!