02 March 2020
The OFFPRICE Show to Host Beauty Popup Event: UNFILTERED EXPERIENCE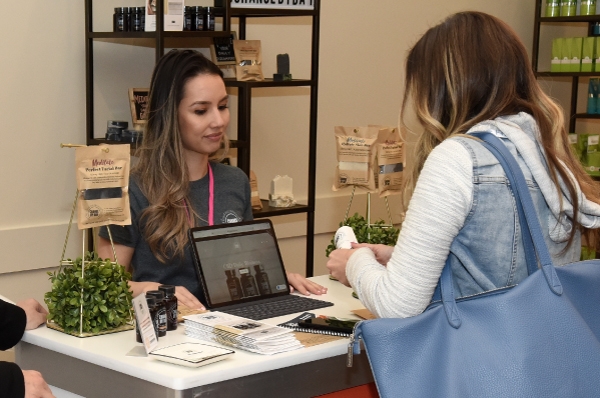 Click on image to download high resolution version
December 11th, 2019 - LAS VEGAS, NV – The organizers of the OFFPRICE Show and UNFILTERED EXPERIENCE announce a new collaboration whereby emerging beauty companies will be featured at Sands Convention Center on Monday, February 3, 2020, kicking off with an After Dark Party, and Tuesday, February 4, 2020, for a beauty popup event during Las Vegas Fashion Week.
UNFILTERED EXPERIENCE will hold a popup event adjacent to the OFFPRICE Show, allowing its buyers and boutique owners attending Las Vegas Fashion Week the opportunity to discover new unique beauty products, adding to their store assortments.
"Our retailers come to OFFPRICE to discover new collections and place orders—our partnership with UNFILTERED EXPERIENCE will allow these buyers new and exciting expanded opportunities," says Tricia Barglof, CEM, Executive Director the OFFPRICE Show. "Lifestyle and fashion boutiques can easily find emerging beauty products, particularly those with limited number of SKUs, to increase basket transaction size and improve their margins. Impulse items such as fragrance, body care, sun care, lip and nail color, alongside clean beauty products, are easy add-ons to display nearby the checkout counter."
"The indie category is currently driving innovation and growth in the cosmetics industry, yet no beauty tradeshow is able to deliver qualified boutique buyers in significant numbers, making this an untapped category," said Daniela Ciocan, Founder of UNFILTERED EXPERIENCE. "This collaboration will provide indie beauty brands access to boutiques who don't require significant inventory, or the type of support typically requested by large national retailers."
UNFILTERED EXPERIENCE works hand-in-hand with influencers and media, who will be onsite to connect and collaborate with companies and boutique owners on social media content creation. Boutique buyers attending what is typically referred to as "Fashion Week Las Vegas" will be able to meet with beauty entrepreneurs to place orders on the show floor and network with the beauty companies present during the kickoff After Dark party. All OFFPRICE Show attendees will be admitted to the UNFILTERED EXPERIENCE beauty popup.
Registration for UNFILTERED EXPERIENCE will open December 27, 2019, on the company website. RSVP to the After Dark party here. Registration for The OFFPRICE Show in Las Vegas held February 3-6, 2020, is open online and can be accessed here. Once registered, retailers will be able to get a sneak-peak on the beauty merchandise on OFFPRICE365 online marketplace.
ABOUT THE OFFPRICE SHOW:
THE OFFPRICE SHOW takes place biannually in Las Vegas in February and August during Las Vegas Fashion Week, and at one annual show in New York City. The show is targeting small business owners, as well as retailer buyers of national chain stores. In its 26th year, OFFPRICE will feature 450 exhibitors and retailers buying all categories of apparel, footwear, accessories, and more.
The OFFPRICE Show is produced by Tarsus Group PLC, an international media group with interests in exhibitions, conferences, publishing and Internet media companies. With offices in London, Shanghai and Milwaukee (home of OFFPRICE), Tarsus serves niche markets with trade events and online media. For further information about Tarsus and THE OFFPRICE SHOW, go to www.tarsus.com or www.offpriceshow.com. Follow @offpriceshow on Twitter for the latest news.
ABOUT UNFILTERED EXPERIENCE:
UNFILTERED EXPERIENCE is a hybrid event that brings together beauty insiders, influencers and enthusiast consumers across high growth cities throughout the country. The roadshow event seeks to deliver a hands-on curated experience to participants by spotlighting beauty products categorized by the latest trends in an art-filled environment. UNFILTERED EXPERIENCE was born from insights gained by its founder Daniela Ciocan, who managed the largest international B2B beauty trade show in North America for twelve years. UNFILTERED EXPERIENCE 2020 roadshow cities will include: Las Vegas (February 3rd & 4th, 2020), Los Angeles (April 24th & 25th, 2020), Chicago (June 19th & 20th, 2020) and Nashville (September 27th & 28th, 2020). For event updates check out the website www.unfilteredexperience.com or follow @unfilteredexperience on Instagram and Facebook.###
Media Contacts: Mikaela Kornowski Marketing Manager, OFFPRICE Show Tel. +1-262 754 6906 Email: mkornowski@offpriceshow.com Daniela Ciocan Founder, Unfiltered Experience Tel. +-702-760-7210 Email: daniela@accessbeautyinsiders.com