23 February 2021
OFFPRICE Orlando Market's success shows retail industry is keen for safe live events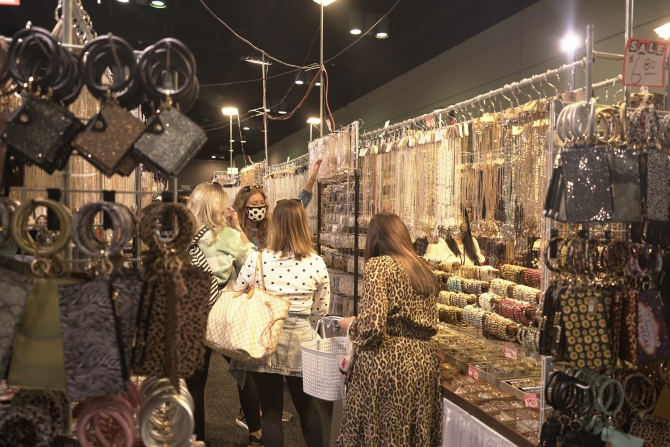 Click on image to download high resolution version
The event joined Fashion Week shows MAGIC Pop Up Orlando and WWIN Orlando Showcase as part of a Stronger Together initiative to reunite and reignite the industry. Taking place in the Orange County Convention Center, the three shows were adapted to offer the highest levels of hygiene and safety.
The format of the appointment-driven show was clearly successful in encouraging buying activity with millions of dollars' worth of transactions taking place over three days. Exhibitors promoted current trends and timeless classics to buyers from small business owners and boutiques to retailers for large regional chains.
Juan Santiago of Ben Kaufman Sales, exhibitor at OFFPRICE Orlando Market, offered:
"OFFPRICE is a part of our strategy because it gives us the ability to move product to buyers that otherwise would not have access to. Companies now a days have a lot of hoops to jump through to get to the decision makers. And shows like OFFPRICE put us face-to-face with the right people."
Strict regulations were in place including requiring proof of a recent negative COVID-19 test from all exhibitors, attendees, contractors and staff. Participants had the option to pre-test prior to arrival or take a free, rapid response test on-site. This was complimented by temperature screenings, social distancing and the wearing of masks.
Buyer Jack, from Panama City Panama noted:
"We liked that we were able to meet various suppliers in Orlando after a whole year. We felt we had to support OFFPRICE because they are essential to our business. The show was well organized and safe. Wish more of you had attended. Looking forward to a larger show in Las Vegas in August. "
Tricia Barglof, Executive Director of OFFPRICE, said:
"Our top priority has always been the health and safety of our exhibitors, attendees and staff members. To bring the community together is critical to the revival of retail. In-person negotiation and relationship building is at the core of OFFPRICE."
Barglof added:
"Although cautiously optimistic heading into the show, we were extremely pleased with the turnout and buying activity on the floor. We knew people were eager to get back to some sense of normalcy regarding sourcing and Fashion Week was their first opportunity."
"In providing a safe and controlled environment, we hope our success will provide reassurance and confidence that live shows can still be an effective way to do business once again."
The OFFPRICE Show will continue its support for the retail community and commitment to reinvigorating the industry August 7-10, 2021 at the Las Vegas Convention Center