02 March 2020
OFFPRICE concludes successful trade show and kickoff of new partnerships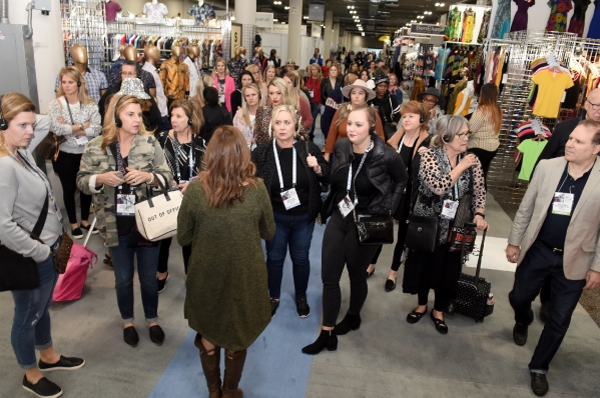 Click on image to download high resolution version
(Brookfield, Wisc, February 12, 2020): The aisles at OFFPRICE Show were humming with excitement from small boutique owners to major retailers, especially on days one and two of the trade show. Notable traffic could be found in the Boutique feature area, back by popular demand, which showcased elevated, unique merchandise at a slightly higher price point. Buyers and sellers also had positive feedback on the new location for Cash & Carry, which found a new home in the wholesale area.
"At our February 2020 OFFPRICE Show in particular, we experienced an increase in interest from small retailers and exclusively e-commerce businesses," says Tricia Barglof, CEM, Executive Director of OFFPRICE. "Now more than ever, retailers are utilizing OFFPRICE for quality margin-builders to help grow their profits."
Retailers are using OFFPRICE to stay competitive in an increasingly challenging landscape. "We have been attending the OFFPRICE Show for forever, we're a legacy company," says Jennifer Hamilton, buyer for Gabes, "We do a lot of business here and get a lot of deals. It's a quick turnaround business for us too, so we can catch things that aren't as readily available in the market."
International retailers also continue to have a strong representation in the off-price sector. La Polar, a 23-location chain store from Chile, was just one example of new international companies investing in OFFPRICE. Canada, Mexico, and Puerto Rico continue to be areas of growth with the trade show.
"The show went well," says Patricia Rice with La Polar. "We found five new vendors that we wrote purchase orders with, and we also met potential vendors that we are following up with after the show."
Many exhibitors were pleased with the turnout as well. "This show was even better than last February," says Eugene Kaplan, Owner of Boulevard Apparel and OFFPRICE exhibitor. "We had inquiries from the buyers for the men's category at BELK, which is very exciting."
OFFPRICE launched two successful new partnerships at the February 2020 trade show, including the beauty popup, UNFILTERED EXPERIENCE. The company, recently acquired by Tarsus—the parent company of OFFPRICE, hosted countless social media influencers, and 10+ new beauty and wellness brands for retailers to meet. The After Dark Party to kickoff the partnership was particularly notable, with 250 buyers in attendance.
Ashley Alderson, Founder of the Boutique Hub, brought more than 40 excited boutique owners to OFFPRICE for a guided tour from show staff. Participants were shown key feature areas of the show, received insider shopping tips on how the show can help their business, and were welcomed with a networking reception to follow.
Registration for the NYC Market Show in New York City, May 5-6, 2020 at Penn Plaza, is now open online for returning attendees. First-time attendee registration will open in the coming weeks. The next OFFPRICE Show in Las Vegas is scheduled for August 15-18, 2020, at the Sands Convention Center. Registration opening soon. For more details, please contact Mikaela Kornowski, Marketing Manager, at 262-754-6906 or by email.
Notes to editors:
About OFFPRICE
The OFFPRICE Show takes place biannually in Las Vegas in February and August during Fashion Week, and an annual market show in New York City. The show is aimed at small business owners to retailers for national chain stores.
The OFFPRICE Shows are produced by Tarsus Group plc, an international media group with interests in exhibitions, conferences, publishing and the Internet. With offices in London, Shanghai and Milwaukee (home of OFFPRICE), Tarsus serves niche markets with trade events and online media. For further information on Tarsus and OFFPRICE, go to www.tarsus.com or www.OffPriceShow.com. Follow @OffPriceShow on twitter for the latest news.