21 August 2023
Offering Cost-Effective Wholesale Solutions during Las Vegas Fashion Week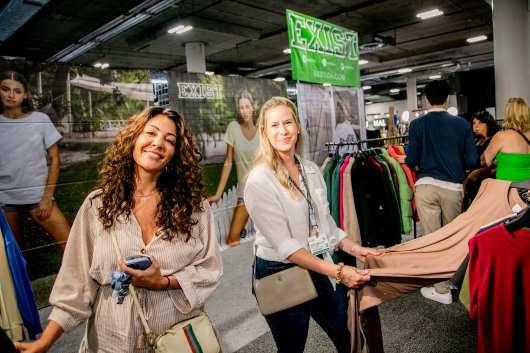 Click on image to download high resolution version
OFFPRICE Las Vegas Offers Cost-Effective Wholesale Solutions during Las Vegas Fashion Week.
August 16, 2023 Rosemont, IL — In a show of solidarity with the retail industry facing challenging economic times, OFFPRICE Las Vegas provided retailers affordable, wholesale opportunities that enhanced profit margins and fostered industry resilience.
"We understand the retail community has been grappling with economic challenges. And we recognize the need for solutions that cater to the industry's concerns. We are proud that OFFPRICE brings together retailers and suppliers under one roof, offering smart buys from over stock inventory and high margin goods." noted Tricia Barglof, Executive Director, OFFPRICE Division.
With over 25% of the vendors new to the show, buyers met and networked with new and notable vendors to source unique product for their stores. The show worked to curate an array of products from the 300+ vendors exhibiting, that drive profit and entice the end consumer.
Seeing an upward trend in international attendees in the last several shows, OFFPRICE welcomed retailers from over 34 countries, heavily concentrated in the Latin American market.
ORLANDO Market
On Monday night, the OFFPRICE team launched their new East Coast market in style with food and drink in the District. Set to take place in Orlando Florida, October 17-18, 2023 at the Orange County Convention Center, exhibitors and buyers mingled as the team rolled out the floor plan and exciting additions to the new market.
Orlando Market hopes to see vendors from the East Coast as well as Midwest and West Coast. The show will be focused on filling immediate inventory for 2023 holiday and resort seasons, as well as getting a jump on the spring 2024 season. We expect to see 150-200 exhibitors looking to spend meaningful time meeting with buyers during this strategic market.
Different from the Flagship show in Vegas, the Orlando Market will offer hosted coffee and luncheons daily with fireside chats educating the audience on off-price strategies, fraud control and other dynamic sessions. The marketplace will be most appealing to East Coast, Caribbean and Latin American retailers. We hope to capture those buyers that haven't returned to Vegas since the pandemic as well as offer a less expensive option than buying trips to New York.
FEBRUARY 2024 Show
Excitement for the next February show was evident as the home of OFFPRICE, the city of Las Vegas, will be hosting the NFL's Big Game in 2024. "The date pattern for the OFFPRICE February 2024 show shifted a bit. Starting the Tuesday after the Big Game, OFFPRICE kicks off Las Vegas Fashion Week on Tuesday, February 13, 2024 through Friday, February 16, 2024." Tricia noted. "Moving the show open to Tuesday will mitigate costs of flights and hotels so it's more economical for retailers to travel to Las Vegas Fashion Week."
For media inquiries, interviews, or more information about OFFPRICE, please contact:
Laurel Hansen
Senior Marketing Manager
262-754-6902
About the OFFPRICE Show
OFFPRICE Las Vegas offers a wholesale marketplace to those needing to source products, make valuable connections, and write orders. With an increase of quality goods manufacturers (brands) along with distributors of in-season closeouts and overproduced, budget goods, today's retailers find high margins that maximize open-to-buy dollars and increase their bottom line.
Note to Editors:
For event images and logos, please see attached.
###
[END]