23 September 2021
NYFW Spring/Summer '22 Trends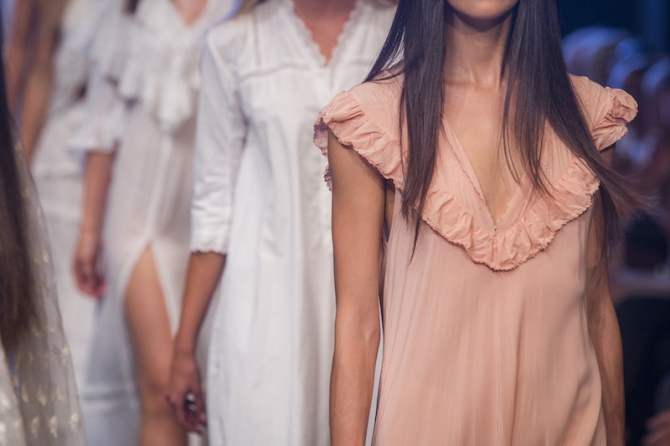 Click on image to download high resolution version
By Audrey Taylor
This month, New York Fashion Week returned to the Big Apple for in-person events after being hampered by the pandemic for a year and a half. The revitalization of the fashion community could be felt throughout the entire industry. With many curious eyes watching from home, the spotlight on fashion's biggest week seemed brighter than ever.
While the world is still faced with pandemic challenges and uncertainty, restless consumers are excited by the possibility of a more normal spring 2022. The runways and trends at NYFW catered to the hopes of Americans rediscovering their vibrant social lives and sense of freedom. Modern bohemian, Victorian elegance, and relaxed suiting were noticed as common themes across many collections.
This week, we're recapping six key takeaways from the Spring/Summer '22 runways. Keep your eyes on the following trends that are expected to be in high demand:
COLOR TRENDS

All images courtesy of vogue.com
Neon Green & Orange
The 2020's have led to neon colors having their biggest moment since the late 1980's. Pink, yellow and blue are popular choices for fashion, but bright green and orange hues were seen in abundance for SS'22 and complimented each other surprisingly well on all sorts of silhouettes. Learn more about the colors of the season from WGSN.
All White
As Americans reimagine workplace attire and return to offices sparingly, designers responded with refreshingly casual suiting and special occasion styles. Adding to the laid-back mood, the SS'22 runways featured many models dressed in head-to-toe white.
Romantic Pinks
After 18 months of binging TV series, such as Bridgerton and The Crown, Americans should not have been surprised to witness balloon sleeves, ruffle collars, and other Victorian inspired designs for SS'22. The ultra-feminine silhouettes were enhanced by romantic shades of pink or all-over floral prints.
TEXTURE TRENDS

All images courtesy of vogue.com
Knits
Typically less common in Spring/Summer collections, knit fabrics were utilized in creative ways this year. Crop tops and mini dresses offered unexpected sexiness in the comfortable knitwear category, while colorful crochet patterns sparked comforting nostalgia.
Psychedelic Prints
It might be safe to say that fashion's tie-dye obsession is on the way out. However, bolder and brighter prints with kaleidoscopic effects and optical patterns made loud statements throughout the week.
Checks & Plaids
Another element that is typically reserved for Fall/Winter collections, checks and plaids are making a guest appearance in SS'22. Windowpane checks and colorful plaids allowed for lighter applications of the traditionally cold weather patterns.
One perk of shopping at OFFPRICE Las Vegas is the opportunity to re-stock on the in-season trends that are flying off your shelves. Don't miss OFFPRICE Las Vegas, Februray 13-16, 2022 at the Sands Convention Center (soon to be Venetian Expo Center). Stay tuned to our newsletter for the latest show announcements.