19 December 2022
Get Those Reviews! How to Encourage Customers to Leave Reviews for Your Products, Store and Service
Click on image to download high resolution version
by: Fiza Khan
Why reviews are important
Reviews are the one single metric that is directly linked to the purchasing decision of customers. This means that if you don't have reviews for your business, you are significantly reducing your potential sales and revenue. Reviews can also have a positive impact on your SEO and can help your business to rank higher in Google searches. And who doesn't want to be ranked on the first page of Google? As they say: The Best Place to Hide A Dead Body? Page 2 of Google.
So, getting reviews consistently can save your online existence and grow Google's love for your business website.Any positive sentiment on your business will be reflected in the review, which could help to increase your visibility to new customers.
There are also some compelling statistics that show just how important reviews are to your business. 90% of consumers read online reviews before making a purchasing decision, and 35% of consumers say they're more likely to buy from a business with reviews. Reviews are also the number one source of information that drives customers to make purchasing decisions.
How to encourage customers to leave reviews
There are a number of ways that you can encourage customers to leave reviews for your business. The first thing that you can do is to offer incentives for customers to leave reviews. You can do this in a number of ways and there are a number of businesses that offer incentives for customers to leave reviews.
Some businesses have been known to offer gift cards, discounts, or freebies in exchange for reviews. You can also reach out to your customers and ask them to leave reviews for you. This can be done via email, on your website and social media accounts, and through any other online platform that you're using. You can also encourage your customers to leave reviews by being more communicative with them. You can do this by responding to comments on your reviews, and communicating with your customers more regularly. If you are looking for a more affordable solution for sourcing gifts and freebies for marketing purposes, you may want to checkout platforms such as OFFPRICE Show.
OFFPRICE Show is great for sourcing discounted and quality apparel products for use as freebies and gifts for marketing purposes. The OFFPRICE Show offers a wide range of products from top vendors at wholesale prices. Additionally, the show offers unique trends and product information that can help you better market your products and services. Finally, OFFPRICE Show offers a great community of vendors that can provide insights and advice that can help you succeed in your marketing efforts.
Tips for responding to reviews
Respond promptly and thoughtfully to any reviews that mention your business.
Stay positive, even if the review is negative.
Always thank your customers for their feedback and use their reviews to improve your business.
Don't argue with your customers or defend your business. Instead, take what they're saying and use it to improve your business.
Avoid using canned responses.
Stay genuine in all of your communication, online and offline.
For negative reviews, always apologize and take full responsibility for the issue.
How to handle negative reviews
Negative reviews are inevitable and are a great opportunity for you to show your customers that you care about your business and products. Take full responsibility for any issues that your customers are having and use the feedback to improve your product. If you receive a negative review, don't delete it or ignore it. Instead, respond to it and use it as an opportunity to show your customers that you care about their experience.
Always remember to stay positive when handling negative reviews and keep in mind that the customer is often just looking to be heard. Apologize for the issue and use the review as a way to show your customers that you care about their experience with your business.
For example, A potential customer may be driven away from an online store if they cannot locate the item they are looking for. However, if the store is lucky, they may be asked for assistance on social media, which presents the chance to provide the consumer with the ideal product. This is exactly what happened when a consumer attempted to find a certain garment on the website of sportswear company Nike.
Nike went the extra mile to provide an amazing customer experience. Rather than just giving a link to the product page, the service representative offered to help the customer find the item that would fit their size, location, and style preferences. This proves that by taking the time to give individualized attention to customers, businesses can build loyalty that will last.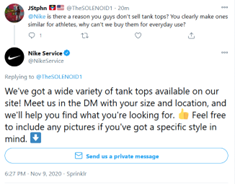 Conclusion
Reviews are an important part of your business. They can help to boost your sales, encourage new customers to purchase from you, and positively affect your SEO. They can also help to reduce the likelihood of returns and cancellations. The best way to encourage customers to leave reviews is to provide excellent service and products. Keep in mind that reviews are also a two-way street. While you want to encourage your customers to leave reviews for you, you also have an obligation to respond to them promptly and genuinely. Remember that reviews can make or break your business and that customers are more likely to purchase from businesses with reviews.