18 March 2022
Fall/Winter 2022 Fashion Week Trends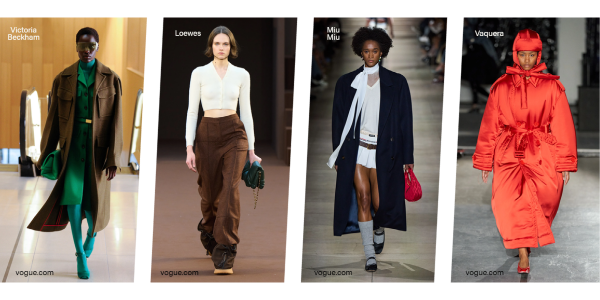 Click on image to download high resolution version
By Audrey Taylor
Over the past month, Fashion Week events have been making headlines worldwide, as brands unveil their Fall/Winter 2022 collections. From New York to Paris, London to Milan, energy on this season's runways could be felt across the industry. For retail buyers, it is essential to not get distracted by the "made-for-paparazzi" moments and focus instead on the over-arching trends that you customers will be looking for later this year.
We spoke to former apparel merchant turned retail influencer, Liza Amlani of The Merchant Life, and she says classic styles that have longevity with hints of trend are the key to a great product mix.
"Aligning with your end customer's values on resale, sustainability and well-made products are so important when building your assortment. The value of buying and designing styles that will stand the test of time will never lose its luster but adding a few trends will keep customers curious and interested. Staying relevant is critical…but within reason."
This week, we've put together a run-down of four key Fashion Week themes that buyers should take note of as they prepare for FW'22:
Layered Long
Lengthy and mismatched layers were common themes seen on the runways during the FW'22 presentations. Longer silhouettes were present across the board - Skirts styled over pants, leggings, and tall boots, or layered under oversized jackets and sweaters. Similarly, floor length coats partnered with contrasting fabrics while long knit dresses were seen in creative color combos.
Oversized All-Over
From outerwear to accessories, oversized styles in the Fall/Winter collections were noticed as a sign of fashion's continual shift towards gender fluidity. In the outerwear category, broad shoulders on tailored jackets and overly puffy winter coats pushed the limits of voluminous apparel. In accessories - chunky jewelry, giant scarves, and statement boots were hard to miss.
Subtly Sporty
While not the most obvious trend on the runways, classic athletic themes were sprinkled into many FW'22 collections. Accents such as moto/racing jackets, sporty stripes, and bright colored nylon fabrics were styled in combination with traditional ready-to-wear. The blend of casual or active pieces with elevated fashion reflects a recent lifestyle shift for most consumers in the post-pandemic world.
Tantalizing Textures
This season, it is all about touchable materials. We're talking fluffy, puffy, furry, and feathery. Anything that makes you want to cuddle or snuggle. Over the top textiles included patchwork plaids, leather fringe, head-to-toe knitwear, and puffer jackets like you have never seen before. Designers experimented with unexpected pairings of typical winter fabrics.
Keep these key trends in mind when it comes time to transition your store to Fall/Winter merchandise. Customers will be looking for wearable trends that they can incorporate into their everyday lives. Visit OFFPRICE Las Vegas, August 6-9 where you can source in-season trends and ready-to-ship merchandise that your customers will love!
ABOUT THE AUTHOR:
Audrey Taylor is the Global Retail Business Manager at OFFPRICE, serving as a resource for retail buyers looking to make valuable connections with wholesale partners. Audrey joined the OFFPRICE team in 2019 bringing 8+ years of experience in the retail and wholesale apparel industry.
CONNECT WITH THE AUTHOR:
Ataylor@offpriceshow.com
LinkedIn