18 May 2020
COVID-19 CDC recommendations for retailers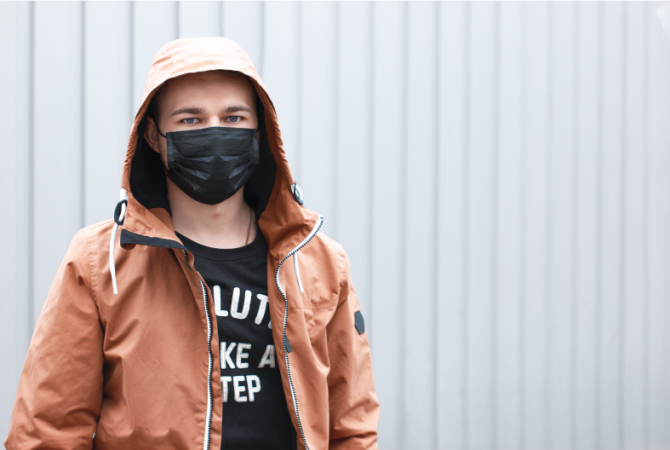 Click on image to download high resolution version
By Mikaela Kornowski
Getting back to business and re-opening your retail storefront to the world means preparing a little differently depending on your state, and even your county. Every area has its own set of guidelines and protocols before retailers can open, but there are some
health guidelines the Center for Disease Control (CDC) has passed down
that apply to everyone.
Here are some key highlights of those recommendations to consider before getting back to work:
Keeping it clean
It's probably a no-brainer. You've already been stocking up on the full spectrum of disinfectant at home, but what's your strategy for your retail business?
"At least once a day clean and disinfect surfaces frequently touched by multiple people, recommends the CDC. "This includes door handles, desks, phones, light switches, and faucets." The organization also suggests assigning one staff member to disinfect surfaces, ensuring the same protocols are followed and completed each day.
Before COVID-19, retailers worked diligently to make their stores inviting, homelike, and encouraged shoppers to spend more time in-store. However, we're now retailing in a time where face-to-face interaction isn't as safe. Fabric couches, pillows, and sofas throughout your store or fitting rooms may not be the easiest surfaces to clean. Where you once invited customers to sit and sip, you may need to adjust these spaces to discourage loitering or unnecessary contact.
"Consider scheduling handwashing breaks so employees can wash their hands with soap and water for at least 20 seconds," says the CDC. "Use hand sanitizer that contains at least 60% alcohol if soap and water are not available."
Do my staff need face masks?
Remember, what's required by your local government varies on your location. But, the CDC suggests that business staff wear cloth face masks "where other social distancing measures are difficult to maintain, especially in areas of significant community transmission."
Even after widening your aisles, removing some racks, and adjusting your traffic flow, if your retail team is still working in close quarters, then consider require face coverings. At the very least, face masks will help ensure that customers won't become infected while shopping at your business.
If you are going to require staff to wear them, consider providing them with disposable or washable masks. Browse styles currently available at
OFFPRICE365.com
.
Should I do temperature checks for all staff?
Here's where things get a little more complicated. Recently we've seen some large-scale businesses implementing temperature checks on employees before entering the workplace. But is this something your boutique or small retail business needs to do? According to the CDC, it's up to you.
If you are going to go that route, make sure to emphasize to your employees that the new protocol is not only to protect customers, but to ensure their safety as well. Make it clear that you, as the owner, are also participating in the new requirement.
There are a few strategies for temperature checks you can use:
Ask staff to self-test, either at your store or before they arrive
Larger businesses may prefer to use a barrier when testing all employees, such as a plastic shield or hood
Use personal protective equipment (PPE) to test when a barrier or 6-foot distance is not possible (less effective method)
What if one of my employees may have the coronavirus?
Keep calm, and make sure you understand
the common systems
so you can recognize them if they do appear. If someone at your retail store does display symptoms, ask them to go home and self-quarantine immediately.
Although your first reaction would likely be to clean your store top to bottom, the CDC recommends you "wait 24 hours before cleaning and disinfecting to minimize potential for other employees being exposed to respiratory droplets. If waiting 24 hours is not feasible, wait as long as possible." In the meantime, open your doors and windows to increase air circulation.
What can you do to lessen the damage before a staff member shows signs? Consider assigning your team members to specific tasks or areas of your store to help contain their workspaces. While you might normally train all staff members on all areas of working your business, ask them to concentrate on their assigned spaces. For example, one employee can cover your checkout desk, one on the floor, and one tagging or handling shipments in the back.
If you don't already have a "sick leave" policy, you may want to create one. "Ensure that sick leave policies are flexible and consistent with public health guidance and that employees are aware of and understand these policies," says the CDC.
If someone on your team says they do have COVID-19, do not ask them to provide a doctor's note to qualify for sick leave, or to return to work. "Healthcare provider offices and medical facilities may be extremely busy and not able to provide such documentation in a timely manner," says the CDC.