02 March 2020
Cash & Carry Finds New Home on OFFPRICE Wholesale Floor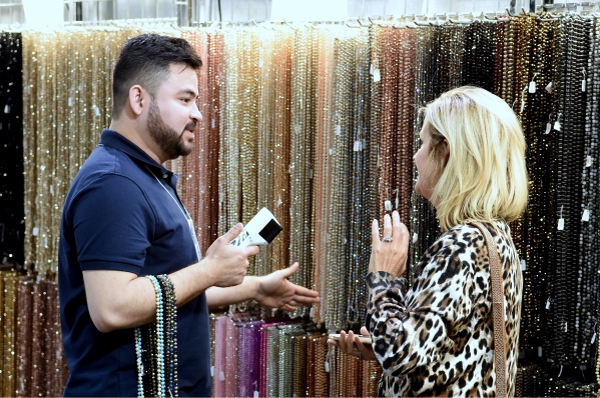 Click on image to download high resolution version
(Brookfield, Wisc, November 13th, 2019): For the February 2020 OFFPRICE Show in Las Vegas, Cash & Carry will be relocated from the Venetian Ballroom in the Sands Convention Center, to Hall G, on the right-hand side of the 7000-8300 aisle of the wholesale floor. Cash & Carry hours are also adjusted to match wholesale hours at the show, which are 8 a.m. to 6 p.m., Monday – Wednesday, and 8 a.m. to 3:00 p.m. on Thursday.
View complete floorplan here.
"If attendees remember where our Bistro area was located, that is where we've found a new home for Cash & Carry," says Tricia Barglof, CEM, Executive Director of OFFPRICE Show. "We're making the change for several reasons, with buyer and exhibitor feedback being one of them. Now, our attendees can find all opportunities OFFPRICE has to offer in one, easy-to-navigate show floor," says Barglof." On-site dining options are now conveniently located at the end of each main aisle.
"I think the move will get even more OFFPRICE buyers to shop Cash & Carry," says Vincent Difalco, Owner of Cranston Jewelry Mfg. and OFFPRICE Cash & Carry exhibitor. "The buyers will also have a lot more space to shop in and view products."
Cash & Carry will continue to be a destination for retailers hoping to buy fashionable, affordable accessories on-site, and take home with them. "I started at the OFFPRICE Show a long time ago and Cash & Carry was just what OFFPRICE Show needed to compete with other large trade shows in Las Vegas," says Difalco. "I hope that the move proves to be good for everyone, and I think it will."
Another important change to note for February is that OFFPRICE Show opens on a Monday, instead of the weekend start date that trade show has had the past few years. The Monday start best aligns with other events during Las Vegas Fashion Week.
Registration for the OFFPRICE Show, February 3-6, 2020, in Las Vegas is now open online. Get a sneak peek of Cash & Carry merchandise, and wholesale products coming to Las Vegas on OFFPRICE365, where retailers are staying connected year-round.
For photos, biographies or further information about OFFPRICE, please contact: Mikaela Kornowski, Marketing Manager, OFFPRICE, tel 262-754-6906 or email mkornowski@offpriceshow.com.
Notes to editors:
About OFFPRICE
The OFFPRICE Show takes place biannually in Las Vegas in February and August during Fashion Week, and an annual market show in New York City. The show is aimed at small business owners to retailers for national chain stores.
The OFFPRICE Shows are produced by Tarsus Group plc, an international media group with interests in exhibitions, conferences, publishing and the Internet. With offices in London, Shanghai and Milwaukee (home of OFFPRICE), Tarsus serves niche markets with trade events and online media. For further information on Tarsus and OFFPRICE, go to www.tarsus.com or www.OffPriceShow.com. Follow @OffPriceShow on twitter for the latest news.