Kids Apparel Selection and New Showrooms Please Visitors on First Day of the OFFPRICE Show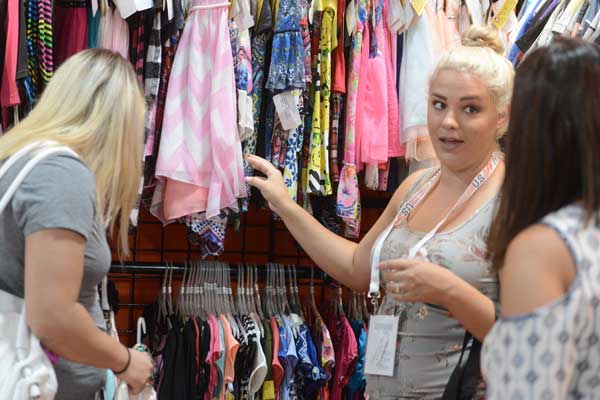 Las Vegas, Nev. (August 11, 2017)- With over 40 new exhibitors brand new to the total group nearly 500 vendors to the OFFPRICE Show, day one of the apparel show offered exhibitors the same great deals they've come to expect, as well as a few new surprises along the way through the expanded selection of children's merchandise. 
Sara Singh, buyer for Rainbows, "A lot of the vendors that were attending other apparel tradeshows are actually here at the OFFPRICE Show—especially in the kids retail market."
According to Singh, it's easier to find everyday, value-based clothing for children at the OFFPRICE Show because other apparel shows tend to only offer high-end merchandise. "OFFPRICE is fantastic and the variety is great. Over the years our business has changed a little bit so we're walking around and asking ourselves how can we get even better at what we do."
For Singh, creating an edge against other retailers and big box stores can be a challenge. "The competition is steep, which means buyers have to do a better job," she says "At OFFPRICE you're able to compare prices, there's so much knowledge here, so many vendors. This makes life a lot easier because you can buy pretty much everything here."
Besides the additional offerings available for children's merchandise, the new Showrooms at OFFPRICE have also given buyers more options and more opportunity to diversify their business. "We've already seen great interest in the showrooms on our first day," says Stephen Krogulski, CEO of OFFPRICE. "Buyers are taking great advantage of the new buying opportunity and we're looking forward to the upcoming days of the show, where retailers can take advantage of even bigger savings.
With guests still traveling and many buyers steadily making their way to the show floor, Mindy Hyman, exhibitor for Fast Turn Wholesale, was more than satisfied with the traffic in her booth. "I had great success on day one and I'm looking forward to day two at the OFFPRICE Show," she says. "I had an even larger turnout for day one than I did at the February 2017 OFFPRICE Show. The new styles I've brought into the show have also resonated well with the buyers."